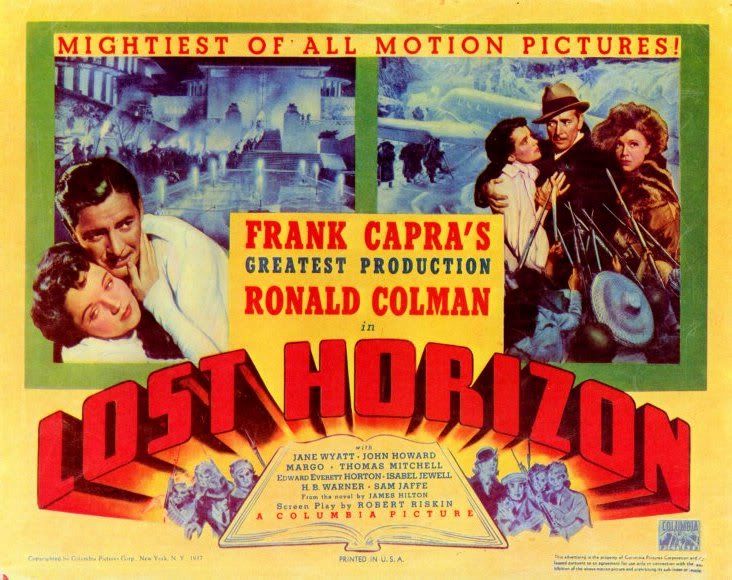 "An endearing scene where Ronald Colman pursues stunning Jane Wyatt (Sonda) on a wild horseback chase over hill and dale!"
Dimitri Tiomkin (1898-1979) composed a magnificent score for this film. The Russian emigre had left his native country a few years after its revolution. He worked in Germany and France before coming to America in the early 1930's.
"Lost Horizon" was his first major Hollywood triumph, and earned him an Academy Award nomination. He would go on to win the award for composing the classic Gary Cooper/Grace Kelly Western "High Noon" (1952), "The High and the Mighty" (1954), and "The Old Man and the Sea" (1958) .
His work covered great scores for many action films and also he had a great romantic touch as you can listen to here.
Frank Capra's "Lost Horizon" was based on a James Hilton novel with a screenplay by Robert Riskin. In the story, six Westerners are flown out of the turmoil of a Chinese city under attack and hijacked to a mysterious Tibetan kingdom called Shangri-La. Here beauty, tranquility and longevity abound. Ronald Colman plays Robert Conway, an outstanding diplomat who is brought here, perhaps to save the rest of civilization from the destruction of war. In the end, he and some of the party brave the peaks of the Himalayas to return to their world--and they discover that some things can only exist in Shangi-La.
An excellent film, and one that was neglected for years until the UC-Los Angeles Film Archive restored the movie in 1985 to it's original running length. Some parts of the original 137 minute film could only be restored by using production stills and the soundtrack.
I was fortunate enough to see a premiere showing at the Pacific Film Achieve inBerkeley shortly after the restoration. It was worth it! What was a sad case of a valuable film that was chopped up and had parts badly neglected in storage by its studio (Columbia) now survives nearly whole as it was meant to be.
This is a small selection from the film. Tiomkin's romantic side as a composer is right on the mark.