A bit of commentary by yours truly below:
WASHINGTON (CNN) -- The Senate Finance Committee on Tuesday rejected two amendments to include a government-run public health insurance option in the only compromise health care bill so far.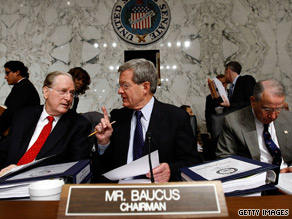 Sen. Max Baucus said the public option provision would "hold back meaningful reform this year."
The amendments by Democratic Sens. Jay Rockefeller of West Virginia and Charles Schumer of New York were opposed by all 10 Republicans on the committee and a few Democrats, including committee Chairman Sen. Max Baucus of Montana.
Baucus explained that he liked much about the idea of a public option but that he knew a health care bill containing the provision would fail to win enough support in the full Senate to overcome a Republican filibuster.
"I fear if this provision is in the bill, it will hold back meaningful reform this year," Baucus said.
Rockefeller said that unfair practices by insurance companies required a not-for-profit alternative that would give consumers a lower-cost option and, in some cases, the only coverage they could get.
"They're getting away with banditry. They revel in it," Rockefeller said of tactics by insurance companies to avoid covering high-cost or high-risk consumers.
"I feel so strongly about it because it makes so much sense," he said. "The people I represent need this, because they're helpless" in terms of health insurance.
*****************************************************************************************
When I think about the Swiss Cheese health care insurance system in America, I don't think about Senator Max Baucus being able to count noses to pass a bill. I think about 47 millions of Americans without health insurance; I think about the thousands of people who lined up in Los Angeles the other day to get free health screenings. (The lines went on forever.) I think about local people who have been hurt by a lack of health care, such as the families which have to go around putting jars in convenience stores here to raise some money because their kid needs leukemia care and they have no insurance.
According to Oregon US Senator Jeff Merkley's office, a mother of two died from what she thought was bronchitis, but didn't go to a doctor because she wasn't insured, having changed her job. Turns out it was a lot worse than bronchitis, but she was self-medicating herself to save money on case her kids got sick. And she couldn't qualify for Medicaid, which his supposed to be for poor people, because she wasn't poor enough.

I know there's other anecdotes out there, and some would might support no
public-options and such. I also know that medical insurance has gone up a lot
faster than salaries. Three or four times as fast in some areas.
The thing is the right-wing pretty much has won this battle. Despite polls
saying that people favor a public option, its the senior citizens in the USA (ironically some of then being "tea party" rowdies who show up at Congressional Town Meetings and jeer any talk of a public option) who are by a 60-40 majority against the plan. Why?
Because, at the root of it, they are afraid that there won't be enough
government-sponsored medical protection to go around. They deny the benefit they receive even to people in th work force now who pay for their coverage through their payroll tax.
The irony is unalloyed.


Most seniors want to keep the benefits they are getting from the next generation. This is what American Individualism has sunk to--the government can send grandpa's grandson to war, but don't even THINK about taking a second look at grandpa's medical benefits! This is individualism?
It's more like a mob beating people with oars who are trying to get into a
lifeboat after a ship (the economy) has started to sink.


Consider this:

No single-payer program. Totally off the table.

No public option. They will still be some talk, but its done. Beaten. Obama
has been backing away, calling the public option "just a sliver" of his program. It was one hell of a sliver if you ask me.



A Montana Senator named Baucus who has written a bill so favorable to the
insurance industry they the industry is running commercials for "reform".

A lot of talk about "choices". Let the big insurance companies compete and they will create more choices. Choice is good, but the final good for me is affordability and security for Americans as citizens, not simply as wage-earners. This economy doesn't put
people right back into jobs. 14,000 thousand people a day were losing their jobs a while ago. Most of them lost health care with that.

The American Constitution--which protected folks from big government-- was designed at a time when there was no Big Pharma, No Health
Care Insurance Oligopolies, no hospitals built like mini-Taj Mahals with
thousands of well-paid health care specialists, all on salary. I think part of
this problem is that Americans are distracted with fighting a 19th Century war about Big
Government. Mega-Businesses have a larger role in legislation through K-Street
lobbyists in Washington then the Founders could have dreamed!
Today over 60 percent of bankruptcies are caused by high medical bills,
according to a Harvard study. I know my premiums go up and up. I don't expect
a real universal health plan , but I do expect the end to people being denied
insurance for pre-existing conditions and see more people covered by some form
of public/private health care plan. And, for what it's worth, I think everyone
should have to buy health insurance if they can because if they don't and get
sick, its the public hospital that will pay for their care at the emergency
room.
If you drive a car, you need car insurance; you have a body susceptible to
disease or accidents, you need medical insurance.

If the French can do this, and the Swiss and the Brits (and not all their plans
are the same either) then The United States should be able to
produce enough compassion and practicality to do it too. But I guess we're too busy beating back the folks who haven't got on the lifeboat yet.